We Take Potholes Seriously So You Don't Have To
Potholes. They always seem to show up at the worst possible times, ready to spill your coffee, flatten your tire—or worse. Once they begin to form, it's hard to stop them. 
Being an asphalt maintenance company in Maine, a place where cold weather can wreak havoc on the roads we do a lot of asphalt paving repairs. There's just something so satisfying about pothole repair—removing those vehicle-wrecking hazards from roads, parking lots or driveways. We enjoy it (so you don't have to). 
Coastal Road Repair was founded as a pothole repair company with little more than a jackhammer, wheelbarrow and a small dump truck. These days, the milling and crack filling machines we use are much larger. So are the skid steers, the trucks and the trailers. But we get that same sense of satisfaction with every pothole or road-related asphalt patch we install.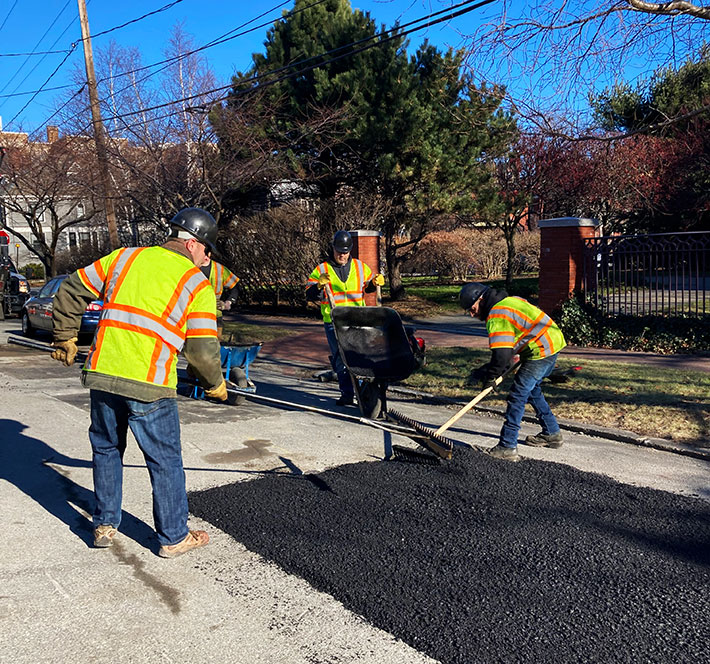 It's more than a business. It's our mission—helping all those Maine drivers who don't want to all of a sudden pay out big money in avoidable vehicle repairs. 
At the same time, our work helps businessowners avoid liability by providing asphalt repair and maintenance as part of an ongoing service plan. Our goal is simple: fixing asphalt cracks and drains that eventually turn into—you guessed it—potholes. 
Potholes: An Origin Story
Simply put, potholes are caused by unaddressed, damaged or failing pavement. Not only do they present hazards to drivers and pedestrians; they also create unnecessary liabilities for property owners. 
In most cases, a pothole has vertical walls from the surface layer down, often with sharp edges that make vehicle damage all but a sure thing. They're usually caused by water that has no place to go and so creates a weak spot in the asphalt pavement. Which can grow over time. 
Especially here in Portland, southern and central Maine, frost cycles create more cracks, which can be greatly reduced via ongoing use of an asphalt crack filler. The same thing happens with catch basins and manhole covers, which often need to be repaired to halt further degradation—just like potholes. 
Top Causes Of Maine Potholes
Insufficient pavement thickness

 

Standing water

 or

 lack of drainage

 

Weak spots in roads, parking lots and driveways

 

Freeze/thaw cycles due to Maine climate

 
Asphalt Maintenance Is Key

From the moment a pothole is fixed, we're constantly checking it out to make sure it the road is smooth as silk when vehicles pass over. If we've done our jobs, drivers shouldn't even notice we've been there. 
While filling potholes is something we do at a high level, our core business is really asphalt maintenance. Pavement preservation is our number-one priority. 
The truth: Most defects can be addressed before they become major issues (if they find the right "pothole repair companies near me" on Google). Doing so can also forestall major repaving projects, saving time and money while creating much less pothole damage liability for owners. 
Keys To Asphalt Maintenance
Just like changing the oil in your car, 

asphal

t needs to be maintained to 

forestall 

substantial costs down the road.

 

Manholes and catch basins experiencing sinkage can be huge problems for walkers and drivers alike

. Focusing on these trouble points ahead of time can make all the difference.

 

Planning is everything

. F

rom day one, we've got a plan—so you do, too!

 
Same Day Service; Built To Last
Once we get the call for a pothole repair, we're on it. Dithering around isn't in our playbook. In most cases, we provide same–day asphalt repair. It's the way we've done business since 2008, and it's still the same today: Get the job done and get it done right. 
We put the same professional–quality work into each pothole as we do our large-scale paving jobs. We know Maine and its unique regional challenges (ice, rain, wind—we got it all), which is why we keep an eye on our work going forward with quality checks that continue to ensure drivers don't feel that dreaded bump in the night. 
Have a patch of asphalt in need of repair? Give us a call. We'll provide an estimate—and then get the thing fixed. Simple as that. At the same time, we're here to talk about cost-effective asphalt maintenance solutions. Our asphalt maintenance plans cover a decade or more, making a full repaving less likely and more effective. 
How We Fix Maine Potholes
Whether it's a pothole or 

parking lot maintenance services

, we do the job right from the start

—

and 

plan

 for the future

.

 

How much does it cost to fix a pothole?

 Of course, it depends. The sooner we're on the job, the less degradation of the asphalt, the more cost-effective it'll be.

 

The basic pothole repair: 

C

ut

 out and clean the affected area; dry it out and spray it with tack coat (bonding glue)

;

 then

 fill with asphalt.

 

Next, cracks are sealed with an emulsion of 

asphalt

, ensuring a strong, weatherproof bond between the original 

pavement

 and the 

asp

halt repair

.

 

Did You Know? Unlike most asphalt maintenance and repair companies, we 

can

 fill potholes during the wintertime thanks to our 

asphalt recycler

, which allows us to recycle discarded material.

 
To be clear, pothole repair is just one of the many services we provide here at Coastal Road Repair. It's not our biggest source of income, but we do consider fixing asphalt cracks and potholes a core of our business. 
We provide a level of service that makes life easier for our clients, whether we're fixing a single pothole or a whole bunch of them. Our goal: help folks stay calm, happy and focused as they drive around southern and central Maine—in downtown Portland, even. 
It may seem minor to some, but we believe a better society starts with better roads, parking lots and driveways—and a lot fewer potholes. We're here to make that happen.